Half Forgotten Daydreams.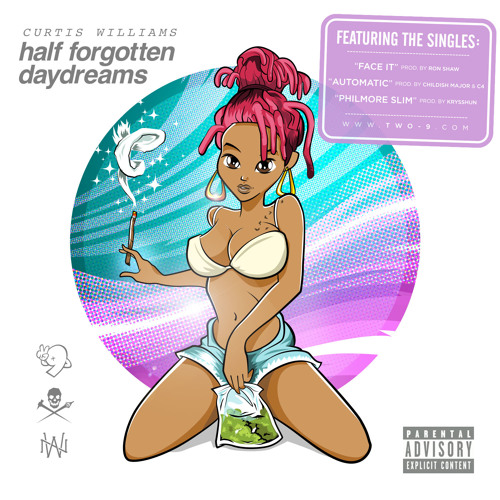 ATL based and Two-9 frontrunner,
Curtis Williams
, recently dropped his project,
Half Forgotten Daydreams
! Project consists of 15 original tracks with features from Robb Bank$, Money Makin' Nique, Alkebulan, Brittany Bosco, and many more. Project's production is handled by Childish Major, Cj Francis, Alkebulan, Brandon Rossi, and more.
Honestly, I held off from listening to this project at first. This weird thing happens with me where I like the first project I hear from an artist, then they drop another one and I hate it. So I was hesitant to listen to Half Forgotten Daydreams because I really liked Curtis's Trill Shit Only project.
I gave in and was pleasantly surprised. This project is really dope. The vibe of the project truly matches the title of it. Listening to this project, you'll feel like you're literally watching all of Curtis's daydreams on a screen in weed smoke filled home theater-the one with the big, comfy couch like seats. Even with the multiple producers involved with the project, it sonically comes together so well. Also, I love the Southern influence that I hear in it. It's not like Gucci Mane, Young Jeezy Southern influence, more like an Outkast influence-which is lovely. And hearing Alkebulan's lovely Southern accented voice really helped with that. And the artwork looks like some hood Lisa Frank shit, I love it!
So apparently Curtis has proven himself to not be a one-dope-project artist. Half Forgotten Daydreams is a great project that shows the growth of Curtis's artistry. And it just might be the project that makes me a solid Curtis Williams fan. Click the link and enjoy some Half Forgotten Daydreams.
Rating:
Curtis Williams' Half Forgotten Daydreams
9.3/10
For more Curtis Williams, check out:
'Always More, Never Less'-Es