The Buffet.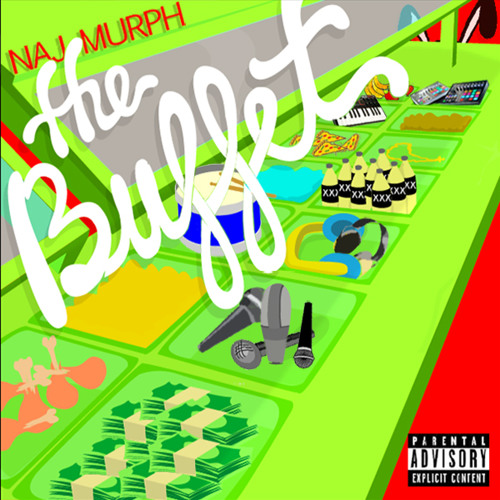 NY to GA emcee, Naj Murph serves up his latest project, The Buffet! The 13 track project includes features from Raq, Luzana Flores, Brandon Phillips-Taylor, and more. Production is handled by Nick the Quick, Wino Willy, Sir Mckallister, and more.
Finally, I get to post some Naj Murph on the site! First time I ever encounter Naj was at A3C 2012 when he performed at the CRUx stage where he definitely left a great impression on everyone. I remember my people and I looking at each other saying, "God damn, he went in! Dope!" And it's rare that I see an artist perform and become a fan before I listen to a full project from them. So yeah, Naj is a great performer.
But no matter how much energy you have and interaction you have with the crowd, you still need good music to complete the package of a great performer and furthermore, a dope artist. Naj Murph definitely gave us a surplus of good music with The Buffet. This project showcases his raw talent and versatility extremely well. I love the different musical styles he incorporated into his style. From some jazz to a sample of Blaque's hit, 808, Naj made it clear that you can throw any kind of production at him and he will body it. He packs his songs with witty lyrics and tons of lines that make you want to run the track back to ensure you got that punchline the first time.
Naj will definitely give you plenty of food for thought so it's no surprise that he invited us to dinner with a solid project such as The Buffet. This is not a project to get the 'itis and sleep on. Aren't you just loving all of my food puns right now? Ha! Atlanta has some serious talent coming out of here and Naj Murph is one of those artists you not only want, but need to keep on your radar. Love this project and I'm sure you will too! Enjoy!
Rating:
Naj Murph's The Buffet
9.6/10
Check out Naj Murph's Rap Heaven video
For more Naj Murph, check out:
'Always More, Never Less'-Es